Sahara travel tours excursions
In the heart of Sahara
Visit the most beautiful desert in the world
A unique human adventure in a fairy-tale world
The nights under the beautiful stars and the majestic Milky Way, the overlapping Admer dunes, the unique sunsets in the world, the gigantic plateaux rising in front of you, the dromedaries by the side of the roads or between dunes, the beautiful gueltas… this is beautiful, magical!
A holiday of pure happiness
5 days, 7 days or 15 days of a tour package in the Sahara, it's a pure adventure, a holiday of pure happiness! You will get up in the morning with the beauty of the desert that surrounds you.
You will make your circuit in the wonderful region of Tassili n'Ajjer, near the oasis Djanet (in the south-east of Algeria) or in the red Tadrart (south of Djanet).
You make your trip according to your dates. The season of Sahara travel tours excursions starts in September and ends in March / April.
Visit the Sahara accompanied by our drivers of 4×4 and a cooks! Several 4×4 are at your disposal to spend an unforgettable trip!
There are many places to visit! They are all different and all beautiful! Tilalen, Tikoubawin, Essendilen, Dider, Iherir, Djanet, Tin Merzouga of the red Tadrart… and many other places. Every day is unique!
You can not wait to discover the Sahara?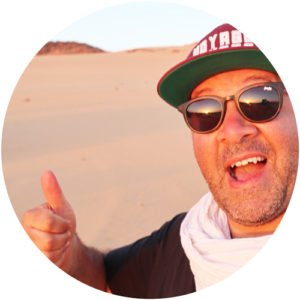 Are you ready for an excellent road trip in the heart of the Sahara? Prepare your hiking boots, your water bottle, your camera, your personal belongings and book your tour!
Places limited to 20 people.